Steve Tietze was born in the 70's, I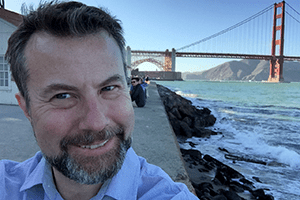 was lucky enough to grow up with access to some of the first early computers. My fondness for computers I believe started in the 5th grade in Germany, where we were fortunate enough to have a computer lab staffed with Atari 800's. I was intrigued by this box that would bleep and run some very basic programs, and so shortly after that I got myself into programming basic. Soon after, I was introduced to the Commodore Vic20, then upgraded to the C64. When I moved to the US, I started working with the Amiga 500. Let's just say I had access to computers at an early age, and ever since I've loved to tinker around with both software and hardware.
During the late 80's I had a pretty cool set up and went from doing computer programming to very early 3D design. After graduating High School I went into college wanting to work on computers, but unfortunately at the time there where no classes in college that dealt with 3D graphics, or computer art. So I jumped around between majors for 3 years (computer engineering, computer programming and then finally into broadcast journalism).
Not satisfied with the college or the types of classes available, I moved in with a friend who had been doing leading-edge 3D graphics and took on a small apprenticeship with him. After 6 months of working with him daily I heard that the Art Institute of Dallas was opening up a program in computer art.
I packed up my stuff and headed to Dallas where I entered the computer art program with hope that I I would learn a lot of new things. Unfortunately, since the program was so new a lot of the teachers working on 3D studio, Alias power Animator, and Photoshop where also learning these new tools of the trade. I quickly excelled in the program and skipped a lot of classes in order to focus on the more hard core 3D program Alias, which was being used then to create special effects for movies. The key, at the time, to getting into special effects in movies was to master this program.
At the end of my schooling I took an internship at Apogee (computer game company) working on the design stages of Duke Nukem 3D. Quickly my dreams of working in movies switched to working in video games. Fortunately for me the video game boom was happening in Dallas with Apogee and Id Software leading the way.
After working on Duke Nukem 3D for 6 months I got a new job offer at a company called Rogue Entertainment, which was working closely with Id software (the creators of Castle Wolfenstein and Doom). Working on the leading-edge 3D games was something I wanted to do because I've always loved working with new technology. We got to work closely with id and I became good friends with a lot of the core group there. It also helped that our Rouge Entertainment offices where next door to id software.
After working on a few games with Rouge Entertainment and doing some side project games I was approached by some old friends who had also gone into gaming and we all left our current companies to form Nihilistic Software.
This was my first venture into the groundwork of owning a game company and taking on a lead role as lead level designer. I quickly found out that the politics involved in owning a company, and also managing a few level designers, wasn't for me. With a very tight deadline and a limited budget we released our first game, Vampire: The Masquerade for Activision.
At this time I had been working on games for almost 8 years, and it was time for me to move on and try something new. I started my own company doing games for the Pocket PC and then gravitated to this thing called the World Wide Web, or the internet as most of us know it now.
After much success and also failure in my own ventures I joined up with a small crew of people in San Diego who where working in Online Entertainment.
After working in online internet entertainment for 7 years I recently decided to go back to my first love which is developing video games and worked with the very talented crew of Factor 5 on an un-named product and then towards the end on the cancelled Star Wars Rogue Squadron Wii game, which recently had footage leaked out.
Over time we decided to form a new company TouchFactor which the team created an amazing virtual 3d fish game "TouchFish" and you can watch the trailer here. After finishing the project I decided to leave the company and move to Lake Tahoe to relax a bit before jumping into my new venture Likemoji where we are trying to change the way people review/rate businesses. You can download it for free from the Apple App Store here.
This was my quick 10-minute story, and it continues on. If you like technology, music, beer and photography, bookmark my Blog so you can read the latest on the things that stand out most to me.
Updates: So I wrote this a long time ago and since then I have been doing a lot of drone work which you can see on this site or on my Instagram Account "Aerial Flight Productions" which you can see below.
I also have been working very hard on building 360 Virtual Tours using my drone photography and ground photography. I just wrapped up 3 amazing tours of Burning Mans Nevada Properties which you can check out here.
My passions continue on with building VR worlds to creating one of a kind unique AI Art which I have started a new Instagram Account "Dreaming Computers" which is also featured below.
Feel free to reach out to me if you want to use any of my services or collaborate with me!