I just wrapped up working on building a 360 Virtual Tour of Fly Ranch which is an amazing property owned by the Burning Man Organization.
I've had an amazing opportunity to be able to go out to Fly Ranch and film over the past few years so I thought I would take some of the panos, photos and videos to showcase a virtual tour at this location.
Recently I also worked with The Land Art Generator Initiative (LAGI) to provide aerial mapping data for a design challenge thats currently going on. To find out more and get involved please visit their official site here. I'll probably post about my experience mapping such a huge location with my drone for LAGI soon.
The tour includes 6 aerial 360 panos, along with various images, videos and information. Click on any of the info icon's to get more specific information about certain sections of Fly Ranch. Take time to explore and let me know what you think. I do plan on shooting more 360 Panos, and videos over the next few years to capture the changes that will happen at Fly and try to keep this tour updated.
The tour will open up another page so you can get the full immersive experience. It's best viewed on a desktop browser, but should work on most mobile devices (this is still a work in progress). If you have VR headset you should be able to also view this tour. Current VR headsets supported but not tested (VIVE, Oculus and Gear VR). Please NOTE this tour is still a work in progress so some things may not work correctly 😁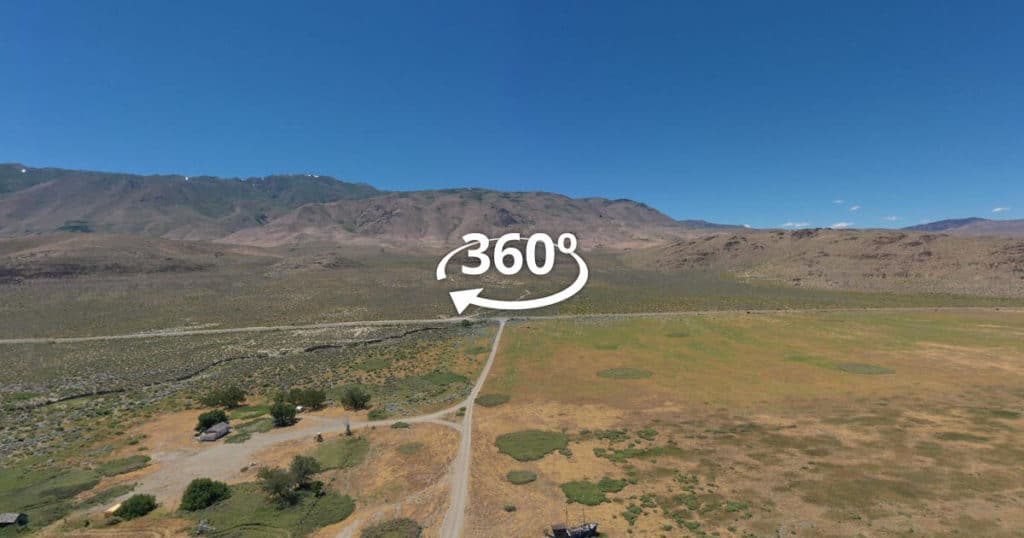 About Fly Ranch Project

Each August, the annual Burning Man event transforms a desolate corner of northern Nevada into a thriving temporary metropolis fueled by creativity, experimentation, and awe. In 2016, the organization behind this city acquired Fly Ranch, a 3,800 acre property just north of the event site.

This property is home to dozens of hot and cold springs, three geysers, acres of wetlands, dozens of animal species, and more than 100 identified types of plants. The Fly Ranch project is an opportunity to create a year-round rural incubator for Burning Man culture and a catalyst for innovation and creativity in the world. To host residencies, gatherings, and projects at Fly Ranch, the site will need infrastructure. We could bring generators, bottled water, packaged food, tents, and dispose of our waste off-site, but why would we do that when we have the opportunity to mobilize the desert-tested ingenuity of the Burning Man community and the inspiration of a greater creative culture to build scalable and sustainable solutions in one of the harshest climates in the world?

LAGI 2020 Fly Ranch Design Challenge

The Land Art Generator Initiative and Burning Man Project have partnered to launch a multi-disciplinary design challenge—LAGI 2020 Fly Ranch—that will create the foundational infrastructure of Fly Ranch.

This design challenge is an invitation to artists, architects, designers, builders, scientists and Burners of all kinds to come together and create functional works of art that provide solutions for power, water, shelter, food, and regenerative technology in the Black Rock Desert.

Proposals are due May 31, 2020 and a minimum of $150,000 in honoraria grants will be distributed across selected teams to build functional prototypes on-site at Fly Ranch in 2021.

You'll find design guidelines, and everything you need to get started at lagi2020flyranch.org.

Please NOTE that Fly Ranch is Private Property so please do not trespass.
Visiting Fly Ranch
There are several ways to visit Fly Ranch, but you need to plan ahead.
Fly Ranch is not available for drop-in visits and trespassing will not be tolerated. Seriously.
The local conservation group Friends of Black Rock-High Rock hosts weekly Nature Walks on the property from April – October. If you would like to join a Nature Walk, sign up here.
If you want to join a work weekend, event, or campout you learn about these by signing up to receive the Fly Ranch Newsletter.
Additional Tour Credits
Profiles in Dust which created the 2 amazing videos that are showcased in this tour. Please visit their Vimeo page here.
Music by AMULETS
If you have any questions about my process of creating the tour from start to finish please don't hesitate to contact me or comment below. I'll do my best to answer any questions.