I was recently down in Reno and decided to create a virtual tour of the Reno Playa Art Park because this space will gone soon and I thought It would be great to capture it before this happens and archive this for my friend Maria who has worked hard over the last few years to bring various pieces of Burning Man art here.
For those who can't get there, here is your chance to explore the park a bit and read up on the various pieces that are at the park before its gone.
Click on the image below to be taken to the tour. I hope you enjoy this and leave any comments or feedback below or contact me via my contact form. Please feel free to share this and if you want your own virtual tour hit me up! Also check out the Aerial Fly Ranch 360 Virtual tour here.
This tour is best viewed on your desktop browser. It's semi optimized for mobile but for the best experience view this on your computer. Also this tour supports most VR Headsets!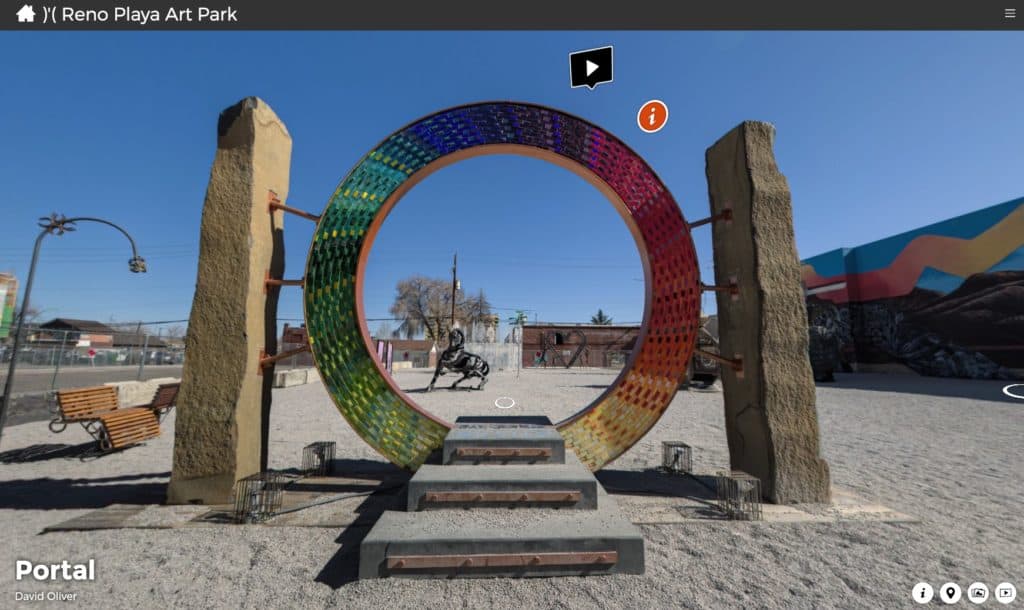 Here is a bit of info about the park
Reno Playa Art Park
In 2016 Artech saw the benefit of placing smaller sculptures in civic environments with the first Reno Playa Art Park. Executive Director Maria Partridge had been collaborating with Burning Man Founder, Crimson Rose placing art in Reno since 2008. With support from Reno's Art and Culture Commission and Burning Man via a Global Arts Grant, Artech found a private lot and curated a small selection of sculptures from the 2016 event. Based on the success of placing Burning Man art in what would have been a blight area in downtown Reno Artech decided to continue in the same location for Playa Park 2017 with the placement of 10 sculptures.
Two remained from the 2016 park and eight were from the 2017 event and came straight to Reno. The park has continued to grow each year with some sculptures leaving and new ones arriving from Burning Man each year from 2018 – 2020. The city of Reno's Art and Culture Commission and City Council have voted unanimously for the placement of Burning Man art in downtown Reno continuing into the future. Playa Park sculptures have inspired other communities to place Burning Man art resulting in 2 sculptures from the Reno Playa Park (Imago and Good Luck Horseshoe) traveling to Davis California parks in November 2017 for a yearlong installation. We continue to collaborate with other parks, businesses and cities throughout Nevada who are inspired to place the art of Burning Man in their communities.