As we all know Burning Man was canceled last year however this didn't stop various people from coming up ways to experience a virtual Burning Man. I first started to work on my own virtual version that I was going to develop in Unreal Engine and provide an app for people to run. My main idea was to create the actual Man Burn with fireworks which as I went down the path of building stuff turned into a daunting task by myself. So one of my goals during COVID was to reload my 3D Modeling skills, build the Man, and deploy it into VR.
I first had to brush off my 3D modeling skills and build a version of the man from various photos I took back in 2017. I had already been using Blender as a 3d modeling package so I thought it was best to star there and build my model.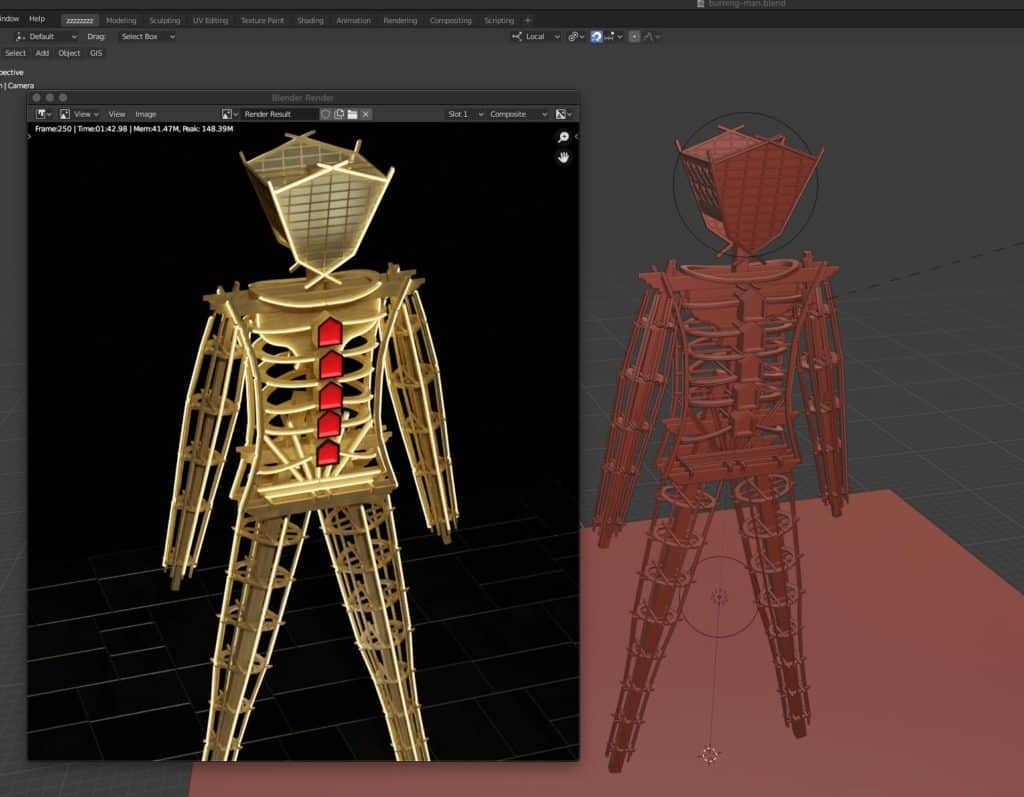 After a bit adjustments for size and portions I ended up with what you see above. Then I set out my goal to get this into VR. At the time I had a Quest 1 and had been experimenting a bit with bringing in content from 3d onto the headset. My engine of choice has always been Unreal Engine, so I fired it up on my Mac (lol) and started to bring in the various pieces and TRY to get up and running via my Mac and sending the build to my Quest 1.
Below is a test video that I recorded in Unreal Engine.
After a bit of messing around with setting up the VR aspect in Unreal (They dont make it easy) I was able to build a version that I could run on my Quest 1. This is a video capture from the device and posted on my FB page so the quality is pretty bad but it gives you an idea of what was possible.
While Unreal Engine has some templates for getting started in VR, the bigger issue was making sure all the android build environments where set and the various settings you had to mess around with to have it properly build. I wish we had presets already built that would scan your system, set the appropriate settings. This took up quite a bit of my time watching videos trying them out, only to be disappointed. On top of that I had the additional change of trying to build all of this on my Mac.
After mulling over how I'm going to build a whole environment and having a fireworks show I received an email from BRCvr which was one of the platforms that where looking for developers to build actual theme camps, art cars and worlds. So I switch my gears and looked at what platform and technology they where using and dove in.
My building process for BRCvr will be in part 2 of building Cosmic Inflation (coming soon). In the mean time feel free to play around with an earlier version of the man I built which can be viewed in your browser.